Who's Megan????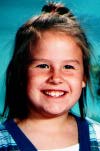 NEW SEX OFFENDERS ADDED AS OF - AUGUST 4, 2003
Class II sex offenders have been added back by direction of law enforcement agency.

Megan Kanka, 7, was killed in July 1994 in Hamilton Township, New Jersey. Jesse Timmerndequas, a twice-convicted sex offender, was sentenced to death for Megan's murder and rape. Megan's parents lobbied for state and federal laws requiring officials to find ways to warn neighbors when known sex offenders move into a neighborhood. In May 1996, the Federal Megan's Law was signed by President Clinton, requiring states to disclose to the public, information about sex offenders. The US Supreme Court upheld the Megan's law so that sex offenders pictures and information can be published on the Internet. Below are the first law enforcement groups to release their information to the public as a community notice. The Arkansas ACIC Department will have the sex offenders pictures for the State of Arkansas up and running by May 2003, as stated to Channel 11 KTHV news station.
"AFTER READING THE LAW ENFORCEMENT NOTICES FROM EACH AGENCY, THE LIST OF CONVICTED INDIVIDUALS IS INCLUDED AT THE BOTTOM, WITH PICTURES AND LOCATIONS."
The records maintained in the Sex Offender Registration database are those reported from the local law enforcement community. The Crime Records cannot amend registration/update information without the receipt of update information submitted by the local law enforcement agency for which the offender resides in "

Arkansas has created a statewide SEX Offender List, so we are discontinuing our local database. Click on the following link to get the list:

Here is a list of other states and what they are doing about sex offenders. If you want more information about the sex offenders from Arkansas law enforcements, write your representative because the law say serious sex offenders only, which stops all the class 2 moderate risk from being listed.
Connecticut Sex Offender List - They list all sex offenders ( Was upheld in the Supreme Court - March 2003 )
http://www.state.ct.us/dps/Sor.htm
Texas: Have to put zip code and town
http://records.txdps.state.tx.us/soSearch/soSearch.cfm

http://www.prevent-abuse-now.com/register.htm

Wisconsin:
http://offender.doc.state.wi.us/public/search/searchbylocation.jsp

Montana:
http://svor2.doj.state.mt.us:8010/index.htm

Alaska:
http://www.dps.state.ak.us/nSorcr/htm/searchframe.htm

Arizona:
http://www.azsexoffender.org/

Colorado:
http://sor.state.co.us/default.asp

Dalaware:
http://www.state.de.us/cgi-bin/sexoff.cgi/apps/docs/dsp/sexoff/all1.htm?list_count=0

Florida:
http://www.fdle.state.fl.us/Sexual_Predators/index.asp

Georgia:
http://www.ganet.org/gbi/sorsch.cgi

Indiana:
http://www.state.in.us/cji/cji_notice.html

Kansas:
https://www.accesskansas.org/apps/kbiro_search.html

Kentucky:
http://kspsor.state.ky.us/

Louisiana:
http://www.lasocpr.lsp.org/Static/Search.htm

Maryland:
http://www.lasocpr.lsp.org/Static/Search.htm

Michigan:
http://www.mipsor.state.mi.us/

Mississippi:
http://www.sor.mdps.state.ms.us/

New Jersey:
http://www.njsp.org/info/reg_sexoffend.html

New Mexico:
http://www.nmsexoffender.dps.state.nm.us/servlet/hit_serv.class

New York:
http://www.criminaljustice.state.ny.us/nsor/index.htm

North Dakota:
http://www.ndsexoffender.com/

Oklahoma:
http://docapp8.doc.state.ok.us/servlet/page?_pageid=190&_dad=portal30&_schem
a=PORTAL30

South Carolina:
http://www.sled.state.sc.us/SLED/default.asp?Category=SCSO&Service=SCSO_01

Tennessee:
http://www.ticic.state.tn.us//SEX_ofndr/search_short.asp

Virginia:
http://sex-offender.vsp.state.va.us/Static/Search.htm

West Virginia:
http://www.wvstatepolice.com/sexoff/

Wisconsin:
http://offender.doc.state.wi.us/public/search/searchbyname.jsp

Wyoming:
http://attorneygeneral.state.wy.us/dci/so/so_registration.html


people have been notified about sex offenders in these areas.